Sunday, March 6, 2011 at 7:00AM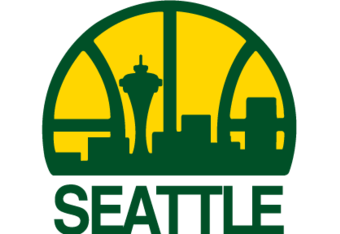 You would think that since I'm unemployed, my weekends might be pretty lazy. Actually, I get a lot of work done on the days that start with S.
Speaking of S, remember the Seattle SuperSonics? Me too. And since they left for OKC and since people have been noticing that almost every team in the NBA has a basketball in either their primary or secondary logo I decided add a basketball logo into my Thunder rebrand.
So looking back at the Sonics (top right), I look forward to the OKC Thunder (below).
And when fooling around with that design I noticed that the lines on the basketball almost spelled out OKC.
So I made it spell out OKC.
And of course I had to change the court to fit the new logo (and I found bigger versions of the courts).
And here are the logos and court with the black/gray color scheme.
And since I found the new, bigger courts, I went back to Denver and Sacramento and did them again as well.
Next Week
Not sure what is going to be released when but here's a few hints at what I have lined up for next week, until then...